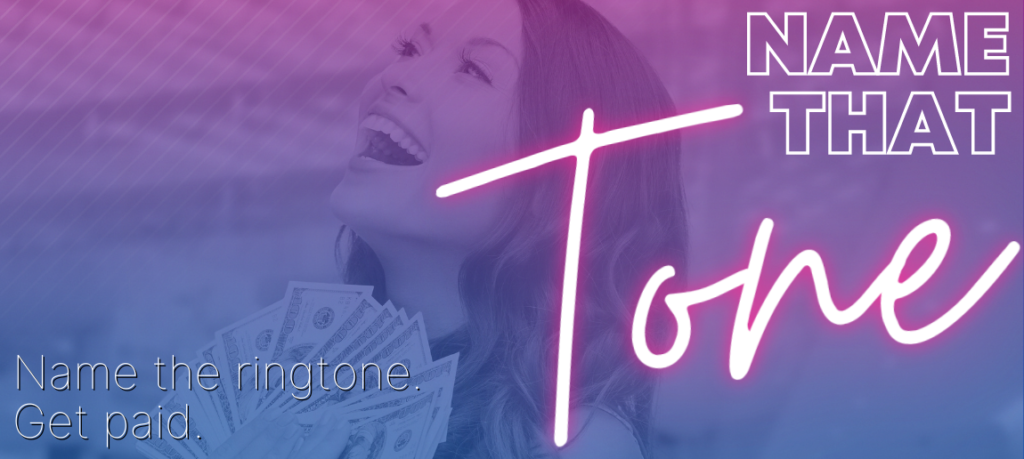 Who could resist downloading all those TERRIBLE sounding ringtones of our favorite early 2000s songs.
Certainly not us.
Finally, THROWBACK 2K with CHRIS CRUISE is paying you BACK for the cash you spent on those terrible, low quality bangers, with a chance to win $100 on NAME THAT TONE!
Just listen to play along with NAME THAT TONE during the third hour of THROWBACK 2K each week. When Chris plays the ringtone from back in the day, text your guess to 855-760-2222 (standard message and data rates apply). If you're right, you'll be entered with all our correct guesses from the month to win a $100 Visa Gift card!**
(** AS LONG AS YOU PROMISE NOT TO SPEND IT ON MORE BAD RINGTONES.)
(** OK, FINE… WE CAN'T STOP YOU. BUT PLEASE DON'T!)
Good luck – and get ready to NAME THAT TONE again soon, on THROWBACK 2K with CHRIS CRUISE!
---
Name That Tone Contest Material Terms
This is a national contest. NO PURCHASE NECESSARY TO ENTER OR WIN. Only legal U.S. residents of the United States who are 18 years of age or older are eligible to enter and win. Starting April 1, 2021, through December 31, 2023, the host will ask on the air on or around the third hour of the Throwback 2K Radio show, to guess the title and artist of what song is played in the ringtone. Listeners will be invited to text their response to 1-855-760-2222 (each such on-air contest solicitation is a, "Contest Play"). All text responses for a particular Contest Play must be received no later than 2 hours after the Contest Play occurs. All correct answers (as determined in the Contest Administrator's sole discretion) from each Contest Play during a particular month will be placed into that month's random drawing to win one (1) gift card issued by a major credit card company valued at $100.00. The random drawing will take place on or about the 1st business day of the next month. The randomly selected winner will be notified via text and/or telephone at the number in which they used to enter the Contest, and upon verification of eligibility and winning, will be mailed the gift card at the address provided to the Contest Administrator. Odds of winning depend upon how many entries received. Entrants may receive a bounce-back text from Station with confirmation of Contest entry, but Entrants will receive no "extra" offers, information, or message content. Contest Administrator does not charge a fee for this service. Contest Administrator assumes no responsibility for charges incurred for text-messaging, including, without limitation, as a result of any bounce back messages or Contest notices from the Contest Administrator. Standard message and data rates may apply, the frequency of any automated marketing message(s) individual opts in to receive are recurring and varies, text STOP to cancel, and terms are available at Terms of Service (textgroove.com). Employees, contractors, and consultants of affiliated radio stations and Lorino Communications LLC are not eligible to win. Otherwise, the Contest Administrator's general contest rules apply. Lorino Communications, LLC is the Contest Administrator of the Contest.